Old Tennis Court Farm
5407 Wissahickon Ave, Philadelphia, Pennsylvania 19144
Our Mission Statement:
The Old Tennis Court Farm is established by Germantown Friends Meeting and School in the tradition of Quakers to grow food, promote sustainable living, and nurture friendly interactions. Germantown Friends encourages interested gardeners, including individuals, groups, and classes from local public and private schools, to sign up for a plot, try out new ways to grow vegetables, and learn about their neighbors. We hope that everyone in our community will share our vision of a peaceful green space, and that together we can establish a harmonious and vibrant community.
See the current OTCF Calendar.
See the Friends of Cloverly Park news page.
---
October 29, 2016
State deadline met! Community fundraising continues!
The recent award of $225,000 from the state met the October 31 deadline and puts the purchase of 5407 Wissahickon Avenue within reach. With more than $40,000 in matching funds from the community to date, we are very close to reaching the full purchase price of $277,000. Our community fundraising continues! Donation online or by mail.
---
October 24, 2016
Within reach!
Through the Greenways, Trails and Recreation Program, the PA Department of Community and Economic Development has awarded our partner, Natural Lands Trust, a grant of $225,000 in support of the purchase of the site at 5407 Wissahickon Avenue.
This award, along with the tremendous generosity of the community, which to date has committed more than $40,000 in outright gifts and pledges, puts the purchase and preservation of the site of the Old Tennis Court Farm within reach!
You can help close the gap of $12,000 to meet the full purchase price of $277,000:
For more about the state award, see the press release from the office of Rep. Rosita Youngblood, who championed our cause.
---
July 20, 2016
PLEASE READ AND SHARE WITH ALL
Old Tennis Court Farm Protection Project
Please join us in this opportunity to protect and reactivate Germantown's Old Tennis Court Farm.
The goal of the Old Tennis Court Farm Protection Project is to acquire and preserve the property at 5407 Wissahickon Avenue and return it to productive community greenspace in perpetuity.
Make a tax-deductible donation toward the purchase of the Old Tennis Court Farm site through Germantown United CDC, the project's fiscal sponsor. Contributions can be made online or by mail using the downloadable donation form.
From 2009 to 2015, the Old Tennis Court Farm was a place for Germantown neighbors to work and learn together as they grew fresh organic fruits and vegetables for their own tables and those of family, friends, neighbors, and local food security programs.
The farm made a significant contribution to its surrounding community by bringing together gardeners of all ages, races, genders, and financial status to join in collaborative harmony for the good of all.
In addition to individual plots, the farm maintained eight community service plots specifically for donation to local food security programs, and several individual gardeners also contributed produce to the community. Over six years, thousands of pounds of fresh, organic fruit and vegetables were donated to programs such as Whosoever Gospel Mission, SHARE, and others.
Now the Germantown community has an extraordinary opportunity to protect and reactivate the Old Tennis Court Farm.
With a goal of raising the full purchase price for the land and related costs by October 2016, the Old Tennis Court Farm Protection Project is working with Natural Lands Trust to preserve the site so that it will truly belong to the community and can once again be a place for growing and sharing nutritious organic fruit and vegetables.
Your tax-deductible contribution will support the purchase and preservation of the site.
———————–
Project Background
In 2009, members of the Germantown Monthly Meeting and other community members founded a community garden on the site of the former tennis courts of Germantown Friends School in the 5400 block of Wissahickon Avenue, adjacent to Cloverly Park. In 2015 the garden was closed so that GFS could sell the property.
The Old Tennis Court Farm made a significant contribution to its surrounding community:
• It was a place for Germantown neighbors of all ages, races, genders, and financial status to work and learn together as they grew fresh organic fruits and vegetables for their own tables and those of family, friends, neighbors, and local food security programs.
• Of its 47 plots, eight were maintained as community service plots specifically for donation to local food security programs, and several individual gardeners also contributed produce to the community. Over six years, thousands of pounds of fresh, organic fruit and vegetables were donated to programs such as those of Whosoever Gospel Mission, SHARE, and others.
With a goal of acquiring and preserving the property at 5407 Wissahickon Avenue and returning it to productive community greenspace, the Old Tennis Court Farm Protection Project is a collective effort of the Old Tennis Court Farm gardeners, the Friends of Cloverly Park, and Natural Lands Trust. Neighborhood Gardens Trust is providing technical assistance and Germantown United CDC is serving as fiscal sponsor.
Purchase of the 0.65-acre site by Natural Lands Trust would preserve the site in perpetuity and allow for eventual transfer to an entity such as the City of Philadelphia (as part of Cloverly Park) or Neighborhood Gardens Trust.
Once returned to operation, the Old Tennis Court Farm would
• provide a sunny area to grow nutritious organic fruit and vegetables for neighbors without adequate garden space;
• offer mentoring for those with little or no gardening experience;
• provide healthy food to neighbors in need and local food security programs;
• invite local schools and organizations to schedule service days or cultivate group plots;
• serve as forum for neighbors who otherwise might not meet and share interests;
• showcase off-grid solar power to motivate energy sustainability by local residents, schools, and other neighborhood gardens; and
• absorb stormwater and prevent additional run-off into the Wissahickon watershed.
To date, the effort has received widespread encouragement and support, including that of members of Philadelphia's City Council, the Senate and House of the Commonwealth of Pennsylvania, the Secretary of Agriculture of the Commonwealth of Pennsylvania, the Philadelphia Department of Parks & Recreation, the City Commissioner and City Planning Commission, Germantown United CDC, multiple community organizations, and neighborhood associations.
Make a tax-deductible donation toward the purchase of the Old Tennis Court Farm site through Germantown United CDC, the project's fiscal sponsor. Contributions can be made online or by mail using the the downloadable donation form.
For questions or for more information, contact us on Facebook or via the Friends of Cloverly Park contact page.
The Old Tennis Court Farm Protection Project is a partnership of the Old Tennis Court Farm community, the Natural Lands Trust, the Neighborhood Gardens Trust and the Friends of Cloverly Park, with Germantown United CDC serving as fiscal sponsor.
---
Oct 10, 2014
Report of the Community Education and Outreach Committee of the Old Tennis Court Farm
This season, the Community Education and Outreach work at Old Tennis Court Farm was more focused and continued to build on past successes. We continued to provide support and guidance to new gardeners, we helped in organizing and directing the projects for scheduled work days, and we planted and harvested an average of around 30 lbs of vegetables per week that were delivered to the Whosoever Gospel Mission in Germantown. Some of the bounty of these plots was also shared with shut-ins and elderly neighbors identified by the gardeners as being in need.
Our work with new gardeners continues to flourish and more of the experienced gardeners are engaged with this work. Building community between the gardeners is an overall goal of everyone involved in the garden and working together, sharing knowledge and experience, seems to be a great way for community building to occur. Last fall we tilled and amended some of the plots so that new gardeners could start with plots that were easier to utilize. This worked well for some of the new gardeners. Additionally, some of the new gardeners were placed in plots that had been previously worked and they too benefitted from the easier start. We also provided plant material to both new and veteran gardeners. Sharing plant material leads to conversations between new and experienced gardeners as they talk about varieties and the best way to plant things. Overall, we gained 4 or 5 committed new gardeners, leaving only a handful of plots empty at this point.
We continued offering regularly scheduled time periods when gardens could come for advice or to get a hand with a particular project. These time periods were utilized at least once a week and included things like helping a gardener weed an over-weedy plot, helping another gardener utilize the empty half-plot next to her own plot, and helping a veteran garden build and plant squash "hills".
Work days went well this year, and were mostly well attended. We tried a different method for keeping track of gardeners' work expectations, and this seemed to motivate people to come to the workdays. Similarly to last year, we tried to divide work into different levels of effort and skill so that tasks were available to everyone. When gardeners were looking for work on ordinary days we were able to make suggestions for them, again varying the tasks by skill level and effort. Our work days were very productive and enabled us to improve our compost system, maintain the fencing and improve and maintain the empty plots. We also worked on building up the berm on the park side of the garden with intention of making a bed for blueberry plants there. We hope to complete that project this October.
The community plots were exceptionally productive this year. They were planted with the intention of growing vegetables in the quantity needed by the numbers of men housed at the Gospel Mission and by the type that would be easiest for them to prepare. A lot of early greens and lettuces were a staple of the early part of the summer along with green onions and early broccoli. In Midsummer we took cucumbers, zucchini, carrots, beets, and cabbages. Then green and yellow beans, tomatoes, collard greens and kale, and more carrots and zucchini. Toward the end of the summer we continued with green and yellow beans and tomatoes and also took hard squashes such as pumpkins and butternuts. The bounty continues into the fall. There are lettuces and other greens ready to be harvested in the garden which can be taken to the Mission and eventually there will be carrots, beets and turnips to harvest.
The work of the Community Outreach and Education group continues to be successful. The group plays an integral role in the web of community between the gardeners and contributes to the overall mission of the garden. The vegetables we bring to the Whosoever Gospel Mission and our neighbors are greeted with gratitude and real pleasure, and our work with our fellow gardeners not only helps the garden to flourish but enriches our experience. We encourage growth, we embrace community, and we are blessed in our sharing.
---
July 19, 2014
The garden is doing very well this season. We had the asphalt from the third tennis court recycled. This left an area of gravel and clay soil that have been seeded with grass and clover. The garden plots are doing well, with several new members actively tilling the soil.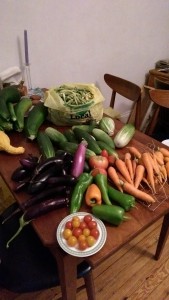 Here is the produce collected from the community plots from one day:
---
May 10, 2014
An excellent start to the new season. There are several new members with lots of new energy! We are proceeding to remove the asphalt from the last tennis court. The garden is full of flowers!
---
April 12, 2014
On the GMM – OTCF workday-picnic the weather was great and we all had a wonderful time working and eating together!
---
Oct 26, 2013
A group of volunteers from a fraternity at Drexel University had a day of service at OTCF. They straightened out the stone retaining wall along Wissahickon Avenue, replaced the cap stones at the stone steps, cut branches from trees, and screened soil. We supplied them with tools, water, and food. The weather was perfect. It started out with a morning frost (38 deg F), then warmed up to a cool 55 deg F with lots of sun, and brilliant colors in the foliage.
---
A sixth grade class from GFS had a service day in which they worked several hours weeding the fence around the perimeter of the garden plot area.
---
Report of the Community Education and Outreach Committee of the Old Tennis Court Farm, September 30, 2013
This gardening season, the Community Education and Outreach Committee had three general areas of focus. One was to directly aid and support new and inexperienced gardeners in the development, planning and care of their individual plots. The second goal was to be generally available to the garden community for help with community projects, and to offer advice and support for concerns that individual gardeners might have about work projects, or projects in their own gardens. And last, to grow vegetables in three "community plots" to give away to a cause or organization in the Germantown area that would be able to use and benefit from donated fresh vegetables. We were successful in all of these areas and gained useful experience for next season.
For our first goal, aiding and supporting new and inexperienced gardeners, we were able to help two new gardeners in getting their plots up and running. We helped them prepare and amend their soil, guided them through the planting process and saw them successfully harvest a variety of vegetables. With more guidance, they are currently preparing for fall and winter gardening.
We accomplished many things in our second area of focus. We helped gardeners who were having difficulty finding time to start or complete projects. We pointed out easy and more challenging work projects for people who were trying to complete their community work hours, such as maintaining the compost piles, helping with the amendment of some of the empty plots, path maintenance, and work on the soil berm. There were regularly scheduled times during the season, called "Green Garden Days" where one of the committee was present at the garden to offer advice or physical help. We posted information about bug management and other topics on the yahoo website, and recently have helped advise people on ways to continue the gardening season into fall and winter.
The community outreach plots, our third area of focus, were a great success. We identified The Whosoever Gospel Mission as being an organization that was the right size to benefit from the amount of vegetables we could produce in those plots. Beginning in June, we took one or two grocery bags of produce to them at least once per week and still expect to be able to take them things until frost. (Dates: June 13, 19, 24, July 10, 18, 25, August 1, 6, 12, 16, 26 and September 6, 16) Produce that we took to the Mission included lettuce, and other salad greens, onions, radishes, celery, cabbages, beets, carrots, green beans, peppers, tomatoes and winter squash. The staff at the mission was pleased and very grateful.
We briefly were joined by a high school student who was interested in learning about gardening. She helped with harvesting and cleaning produce, with soil amendment, and with weeding. Her schedule did not allow here to continue after coming to the garden on a handful of days. However, this could be an important path for outreach. Children and young adults are our future, and we imagine that we could get more students from local schools involved next season.
Overall, our efforts made in Community Education and Outreach over the 2013 season were very successful. The Green Garden Days were well received by the community. We hope to continue these next season. The new gardeners feel empowered and are planning on continuing next year. The gardeners that helped with the community work in the garden felt satisfied with a job well done. And growing vegetables to share with an organization committed to the support of a largely underserved population was a joy and a blessing.
Sept 2013
This year has been an excellent season. Because there was rain at weekly intervals throughout the summer, the water system was not needed as much as in previous years. We revamped the system of piping and valves at the water barrel storage system, so that the valves and hose connections are located at ground level. We removed a tree that had shaded the solar panel last year, and installed a bigger set of batteries and a larger power inverter. We installed a second shed. We established a stronger committee organization that provided needed planning and oversight of the essential tasks. The battery powered lawnmower and weed wackers continued to function very nicely, providing sustainable trimming. We again delivered 20 tons of compost from Fairmount Park for soil preparation. This was utilized by new and experienced gardeners. We reorganized the compost collection into bins, and several people helped to turn the compost in the bins. This made excellent additional compost during the season that was utilized by many of the gardeners.
Gardeners agreed that we need to continue activities that bring our members together, such as potluck dinners and workdays. The communal plots did very well, and several new plots were cultivated by novice gardeners. Students from Germantown Friends School again helped perform garden tasks such as weeding and soil preparation. We plan to continue the effort to reach out to the surrounding community and help new people to learn to grow their own food. Overall, there was a wholesome amount of interaction between gardeners.
Oct 2012
A report from the Education Subcommittee. This year was the first year at the Old Tennis Court Farm in which we started working on having an organized "educational/outreach" program using plots available in the garden. Initially we hoped to have publicized "open" garden days that would encourage people to come to the garden and see what we do there, work in the plots a little, and perhaps take home a few vegetables. Although we didn't manage to figure out the publicity nature of our work, we did learn a lot, grew a fair amount of vegetables for donation and introduced random visitors to our work.
This season, we started two plots and four small beds for community education. Additionally, we developed a compost bed, as one example of the ways that composting garden debris can work to our benefit.
The two plots that were developed this summer proved to be the most productive. In those beds we grew onions, eggplants, lettuce, kale, tomatoes, and peppers. The produce from those beds was donated primarily to shut-ins, identified by our subcommittee, in the immediate neighborhood surrounding the garden. Some of the produce was also used for NPIHN (Northwest Philadelphia Interfaith Hospitality Network) dinners by members of the Unitarian Society of Germantown when the NPIHN families were staying there.
Several gardening members of the OTCF community helped with the maintenance of the plots, including the initial spring preparation, and the subcommittee informed other gardeners and organized the work that needed to be done in those plots. Additionally, we greeted visitors that wandered into the garden, and when present, invited children with those visitors to pick a few vegetables, visit the resident garter snakes and pick a few flowers.
Led and organized by the OTCF Garden Committee, several groups of students from Germantown Friends School helped dig and prepare the beds in the spring, and recently helped get them ready for wintering. Recently we also spent a day turning the beds, including the compost bed, seeding them with cover crops, and creating a list of ongoing work related to the beds. This work includes continued winter prep and garlic planting for spring. Additionally, space was created in one of the beds for planting some fall crops with a group of children living under the care of the NPIHN program.
Future projects include a better plan for publicity of our work, the development of another plot for outreach, and a more formalized plan for sending produce to outlets thatsupport people that don't have access to healthy, fresh, and locally grown produce.
---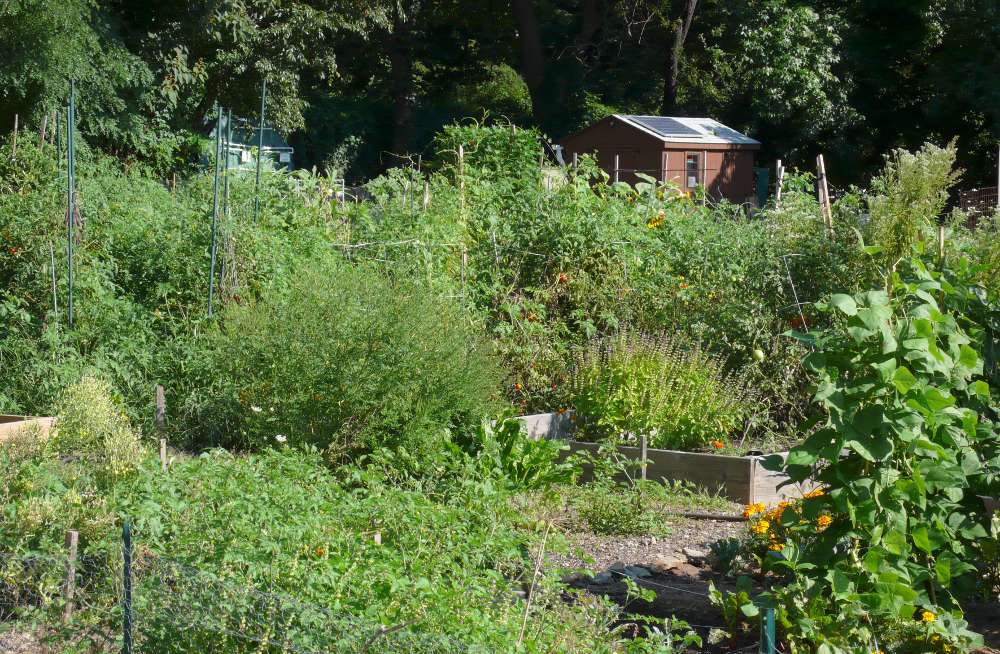 Aug 2012 It has been an excellent season. The new plots have done very well and there were many interactions between the new plot holders and last year's people. We delivered more than 20 tons of compost for use in amending the soil. The new plots were cultivated by a variety of methods. Some elaborate raised beds were constructed and filled with soil delivered commercially. Others dug down into the gravel and clay, screening out the gravel and mixing the clay with compost. This made excellent fertile garden soil at low cost. We organized potluck dinners held every month. These were a great success, with many dishes served from vegetables grown on site. There have been bountiful tomatoes and greens grown on site, along with flowers and herbs.
The well and water barrel storage system worked very nicely for the greater number of plots this year. However, there were several prolonged dry spells, and during one of these the water system failed for a few days. The solar panel stopped charging the battery when trees grew new leaves that shadowed the solar panel. Once the leaves were trimmed back the system went back to normal and gardeners could water their plots without difficulty. The system has been working flawlessly for the remainder of the summer.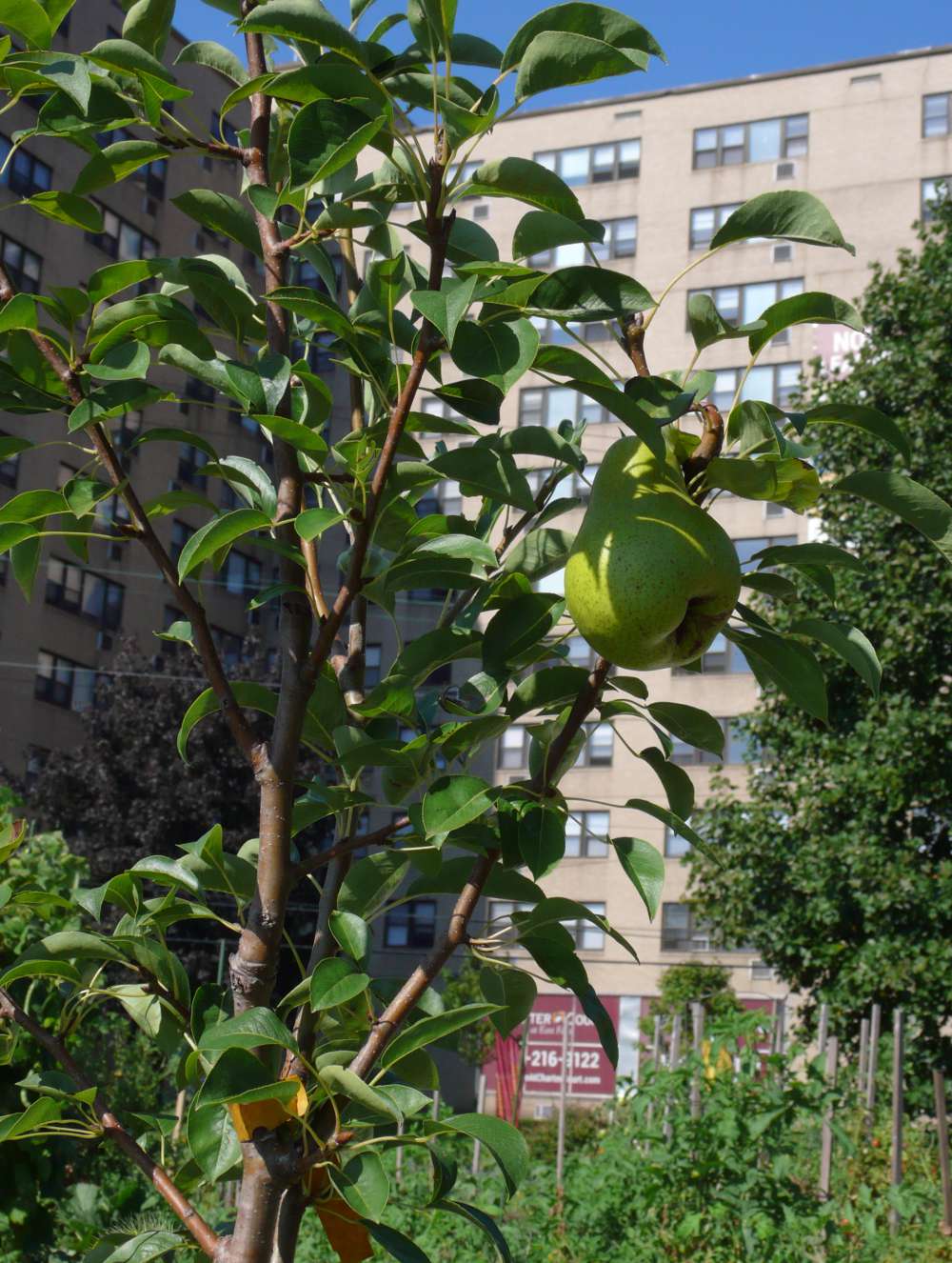 The new apple and pear trees have thrived and along with the red currant bushes were watered during dry spells. The new paw-paw trees are flourishing. Because they're from a warmer climate they took a few extra weeks in the spring to open leaves. The fig and persimmon trees are also flourishing. We got several handfuls of red currants that appeared on the stems from last year's growth. Most of the currants grew robustly this year so we are expecting a bountiful harvest next year.
An inexpensive compost bin was constructed out of free pallets and donated fencing material. The bins have been kept very neat and are already filled up, so we are planning for more.
The apartment building across the street was purchased by a new owner and is now called "Charter Court". The management has been very organized and friendly but installed a gate on the parking lot adjacent to OTCF. We have had discussions with the managers and are hoping to arrange some automatic keys so OTCF members can access the parking lot.
May 2012 The next work day is Saturday, May 5, 9 – 10 AM. We look forward to working together.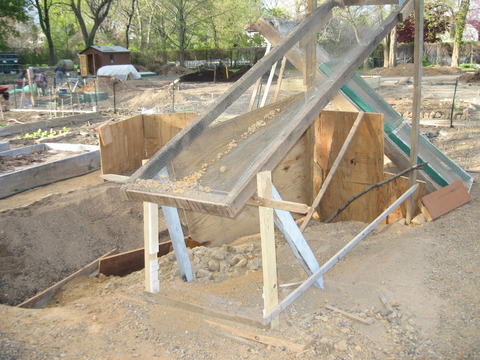 April 2012 We have seen tremendous activity in the new garden plots, like busy bees. Enthusiastic OTCF gardeners have amended the soil. The gravel, rocks, and soil are first dug out and then screened to remove gravel larger than 1/4″. Seasoned gardeners are teaching the new gardeners how to amend their soil. Some of the clay below the layers of gravel is also dug and screened and when mixed with the new garden soil makes an important contribution of nutrients. A generous amount of compost (50%) is added along with several bags of limestone powder, and mixed with the fine soil. Over the past month, we have received deliveries of compost for use by the gardeners on site totaling 20 tons. Many gardeners have constructed raised beds and have arranged delivery of additional topsoil. The raised beds are not required but some gardeners believe they facilitate growing and harvesting. The new driveway ramp is now finished and ready for use by cars and light trucks. We are all enthusiastic about learning new ideas for gardening from our neighbors!
Many gardeners have planted their plots with peas and early greens, and even some tomatoes. Committees have been formed to take care of the weekly chores such as weeding the fences, picking up trash along the sidewalk, caring for the trees, shrubs, and flowers, and mowing the grass. The wall along the middle steps up from the parking lot has been repaired. Additional hoses have been added to allow the new plots to be efficiently watered. The 10 fruit trees have sprouted leaves and are all growing fast. Many of the red currants planted last year are growing fast and are already developing flowers.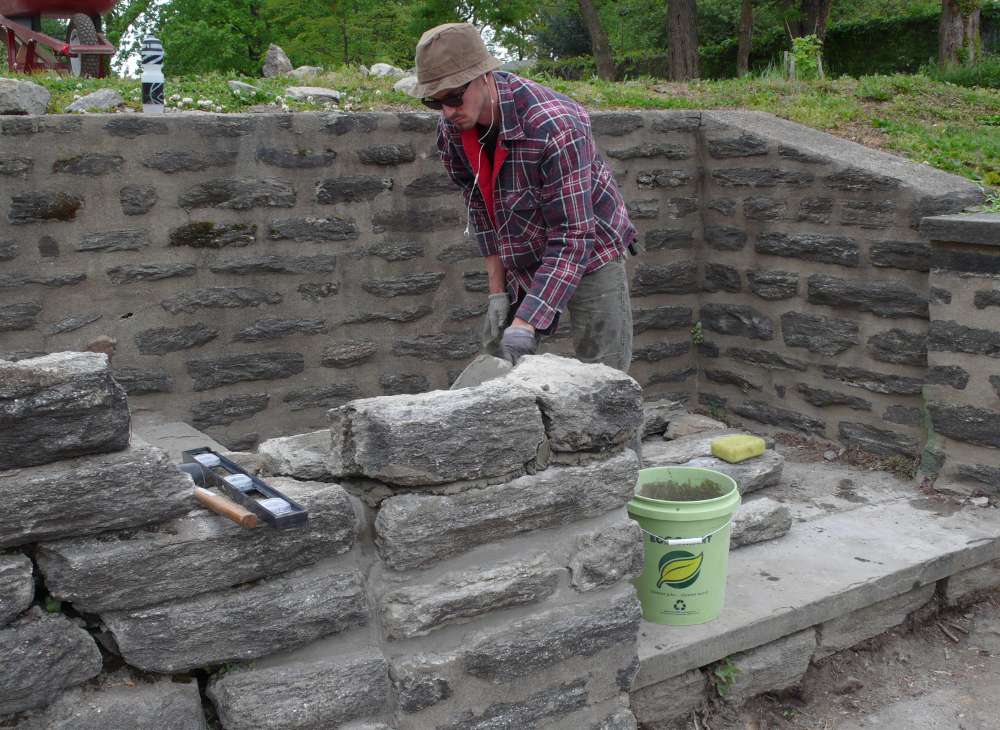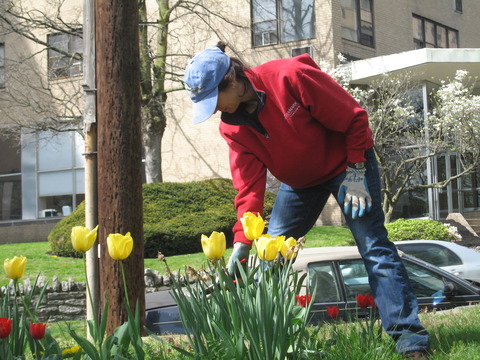 We have organized work days and potluck dinners on a regular schedule so that OTCF gardeners can work and socialize together to gain a better sense of their community. Some of the chores can be done on workdays, but those who are not able to attend can do chores at other times during the week. The potluck dinners enable discussions about new joys of gardening and about ideas for improvements. During one community service workday, a group of GFS students helped to screen the soil in some of the new plots.
March 2012 We have received many new inquiries about plots, so most of our 50 plots have been taken for this season. The new plots have been measured and staked, and are ready for screening. We have constructed a dozen new screeners of different sizes to help with preparing the soil in the plots. New OTCF gardeners will be offered help in screening their plots. We plan to extend the fence around the new plots before the start of the growing season. A second hose outlet has been installed on the water barrel system to provide extra watering capacity. We are arranging a delivery of compost for use by OTCF gardeners, and we plan to construct several compost bins for composting organic matter.
Now (March 1-15) is a good time to start seedlings indoors — tomatoes, collards/kale/broccoli, chard, spinach, lettuce, radishes. Plant them in soil blocks that you can transplant outside later. After the seedlings emerge, place them in a cold frame for the next several weeks during March and early April. We have installed 2 cold frames for OTCF gardeners to grow their seedlings over the next 6 weeks. Seedlings need sunlight and also exposure to cold to harden them for growing outside. A cold frame gets warm in the day to allow warm-weather vegetable seedlings to grow. Peas once sprouted can be planted directly into an outside plot.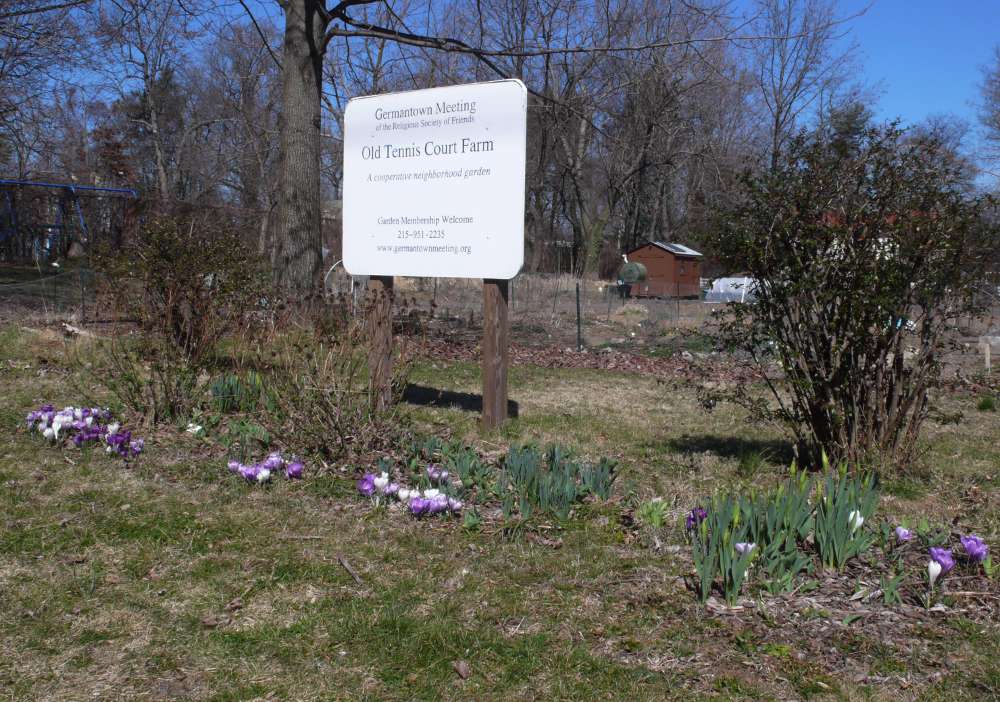 A big part of the OTCF is the interaction between gardeners that develop and enrich the community. We can all learn from each other about new ways to prepare the soil and grow vegetables and flowers. Near the end of March (tentatively March 24, 9-10 AM), there will be an OTCF garden orientation meeting for all members but especially to welcome new members. The meeting will include a seed swap and some seedling vegetables, and an introduction to work days, committees, guidelines, contracts, and payment collection. We also plan a series of OTCF community days. The series of potluck dinners will continue throughout the season to provide a time for OTCF gardeners to interact and trade new ideas.
February_2012 The MLK day projects went very well. We made a cold frame with hoops and plastic, and we laid out the 24 new plots with stakes and string. We are organizing a series of monthly potluck dinners so gardeners can meet each other and discuss priorities and plans. The new plots will be assigned in March, first-come first served, with priority given to last year's OTCF gardeners, subject to approval by the OTCF supervisory committee. The signup list is nearly full for this year but we are maintaining a waiting list in case plots become available. The new driveway is usable but the gravel hasn't been installed, so please before you use it check to make sure it's not too muddy or wet. We are constructing cold frames to allow vegetable seedlings to grow in sunlight and adapt to the early spring temperature.
January 2012 This year, the OTCF will have 48 plots, twice as many as last year. We are planning a workday for students from local schools on MLK day, January 16, 2012. OTCF gardeners and other interested neighbors are invited to help out. We have made a dozen screeners and plan to organize a screening party. We will lay out the next 24 plots and start screening them.
We encourage interested neighbors to sign up for plots (see email address below). We are maintaining a signup list, and currently have vacancies for this year. The new plots will be assigned in late March to early April, first-come first-served. The new driveway access lane is almost finished but is now usable, so if it's not muddy, gardeners can drive up to deliver supplies to their plot. We plan to deliver compost for the use of OTCF gardeners in March.
November, 2011 We removed the asphalt from the second tennis court, and had it recycled. This provided space for 24 more plots. The new driveway access lane is under construction so gardeners will be able to drive up from the parking lot to the Old Tennis Court Farm. We planted several new fruit trees in the common space around the edge of the garden area.
Harvest Potluck, October 22, 2011, 12 Noon -3 PM We had a very successful potluck afternoon festival on Saturday to celebrate our successful 2011 growing season. Everyone brought a dish to share with others. We made hearty vegetable dishes including soups, stews, and apple crisps for this event. It gave us a chance to discuss the season and trade anecdotes about our experiences. Rain date: Oct 23, 2-4PM.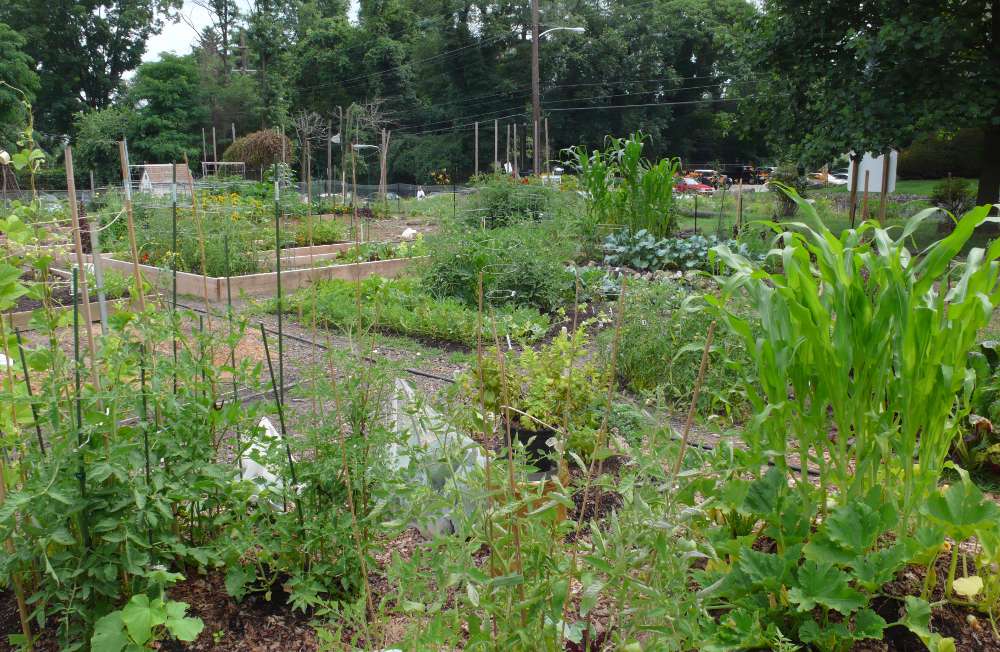 July 2011 Many of the plots are producing very bountiful amounts of beans, greens, carrots, squash, melons, and tomatoes. The raised beds require watering every day but the in-ground plots seem to do very well with watering every 2-3 days. With hot weather, the water storage system started to get empty every night, for after solar panel was in shadows there was no more power to run the pump. Therefore we set up a battery system to power the pump even when sunlight is not available. Now, the water barrels are always near full, which gives better water pressure in the hoses. We also acquired a cordless electric lawn mower and a weed trimmer that are charged by the solar panel. Garden members are asked to spend some of their time working on the common space, the paths, and the perimeter of the garden area, to keep the OTCF trim and neat
June 2011 Thirty plots have been cultivated and are growing nicely. Several gardeners installed raised beds on their plots using 2x12s, but others screened the soil and amended it with compost. We purchased 15 tons of compost from the Philadelphia Recycling Center and OTCF gardeners added it to their plots, along with additional organic fertilizer and limestone. The plots are growning fast, with bountiful crops of peas, arugula, lettuce, strawberries, collards, kale, and beans.
We purchased a shed to store garden tools, and installed a solar panel on the shed roof to power the well pump. The solar panel is active from 10 AM to 4 PM, and the pump can fill the 350 gallon barrel storage in about 2 hours. It is regulated by a float valve that turns off the pump when the barrels are full. Water is available from a system of hoses for watering plants only. The water flow is modest because the hoses are gravity-feed and the tanks are only 4-6′ above the level of the garden plots. The valves at the tank are left on during the day when people are watering, but may be closed at dusk. The valve on the supply hose from the pump is always left on.
We installed a 3′ fence around the perimeter of the garden area to ward off woodchucks. The fence is attached to metal posts and is loose to discourage the woodchucks from climbing over. Five gates allow entry through the fence. They are held closed with short loops of clothesline. The last person to leave the garden checks to make sure the gates are all closed, and turns off the water valves.
OTCF member gardeners have worked to maintain the common space around the perimeter of the garden and its paths. Typically we have a workday every few weeks when gardeners are asked to cut grass, and trim weeds.
Project Flow, a group of 9th grade students from local public and private schools, worked site this summer. They installed a gutter on the shed that fills a water barrel below, and they added signage about the OTCF and our water-related projects. Thanks to Project Flow for these improvements.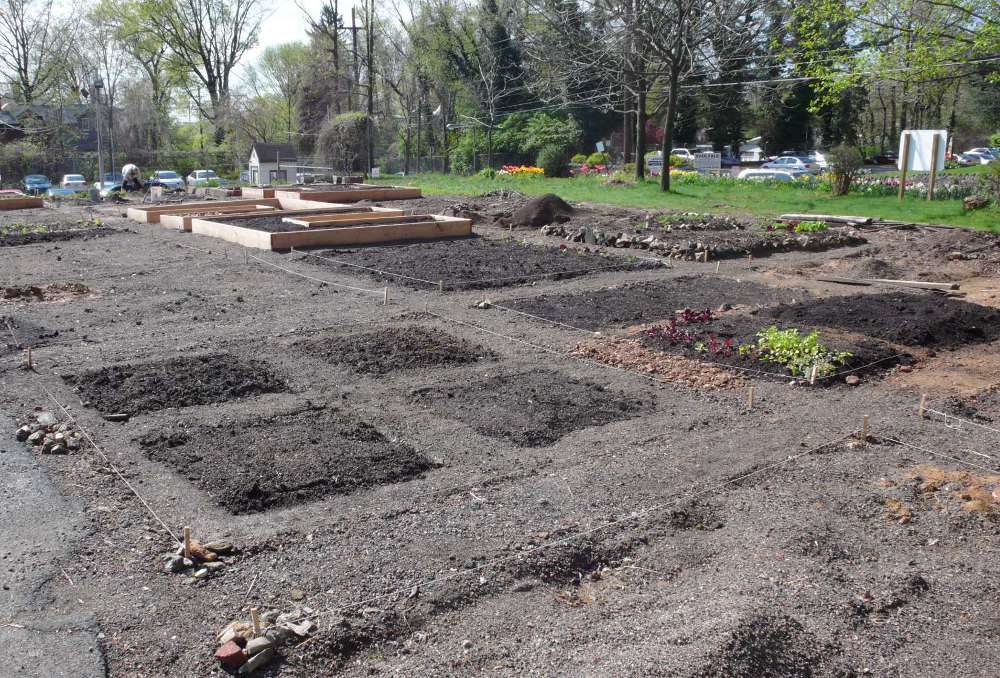 April 2011 We held an orientation community meeting on April 2 to show the lot to interested gardeners. We laid out 24 12′ x 12′ plots and everyone there who wanted a plot got one. Gardeners can sift their soil with several screeners and a big pile of compost is available. Water is available on site from a well. The irrigation water test is here. The water system is not working yet but we are planning to have it going in several weeks. Please note that the water is not potable and is not for drinking. The soil test is here. The plot layout is here. Plots are available first-come first-served, subject to requirements in the rules and regulations. We are planning workdays to help gardeners who have signed up for plots with soil preparation.
March 2011 We held a community meeting on March 10 to explain the plan for the OTCF. The meeting was successful, with about 20 attendees. We plan to hold an orientation meeting on April 2, 2011 at the OTCF to show interested gardeners the plots. Compost and wood chips will be available. Water is available on site. Plots are available first-come first-served, subject to requirements in the rules and regulations. We are planning workdays to help gardeners who have signed up for plots with soil preparation. See the minutes of the community meeting.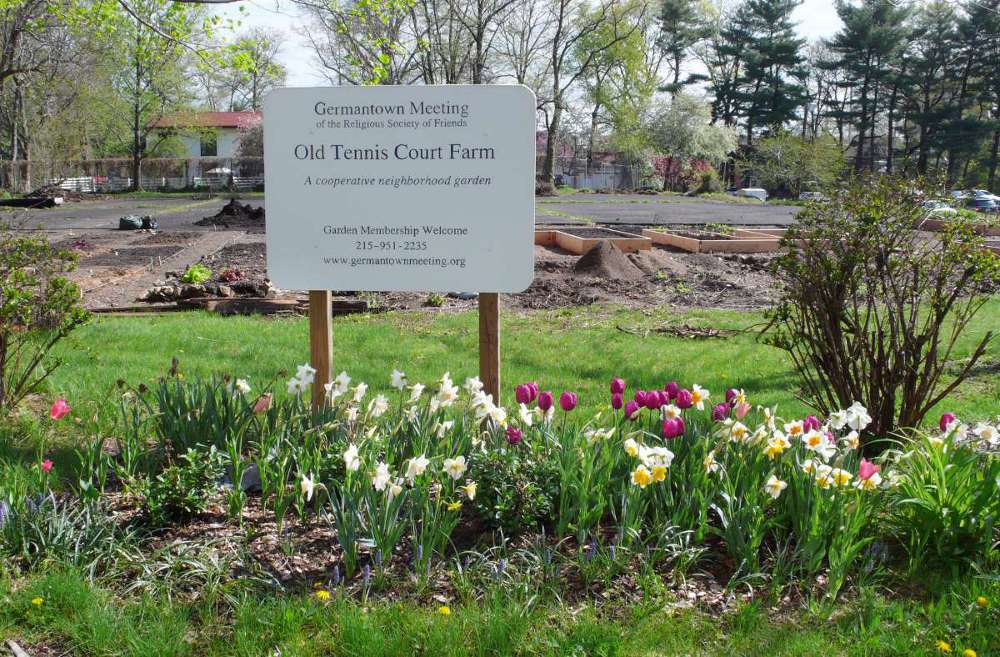 January 2011 We erected the OTCF sign and are accepting contact information from interested neighborhood gardeners. We plan to have a community meeting where anyone from the neighborhood can attend to hear our plans for the 2011 season.
November-December 2010 We removed another one-third of the asphalt from the tennis court, giving enough area for 2 dozen individual plots.
September-October 2010 We continued to harvest tomatoes, peppers, and greens. We planted several new garden beds with tomatoes greens. We constructed a system of water barrels and kept the beds watered.
July-August 2010 We harvested bountiful amounts of cherry tomatoes, broccoli, beans, eggplant, squash, cucumbers, basil, and sunflowers. We managed to keep most of the plants alive during 14 day dry spells in July and August. We are currently setting up a water storage system. You are welcome to help in this gardening effort. We hope to pen the garden to interested neighbors in 2011. To join, please sign up.
June 2010 We are currently preparing the soil that was underneath a strip of the old tennis courts. We are screening the soil and over the summer we plan to add compost to ready the soil for gardening. We are also planning a composting project to recycle organic materials. If you are interested in volunteering for this phase of the work, contact us (see below) so that we can sign you up!
April 2010 We have started a small garden bed (4′ x 60′) that contains tomatoes, broccoli, beans, cabbage, eggplant, squash, cucumbers, basil, and sunflowers. The plants require regular care and weeding. Because we don't have water on-site yet, the plants will require occasional watering. You are welcome to help in this gardening effort. To join, please sign up.
Supported by generous donations from Germantown Monthly Meeting, Germantown Friends School, the Barra Foundation, Weavers Way Coop, and private donors. Photo credits: R.Smith, P.Fede.
Interested gardeners: To sign up, please contact garden@gmm.gfsnet.org or the Meeting Office at 215-951-2235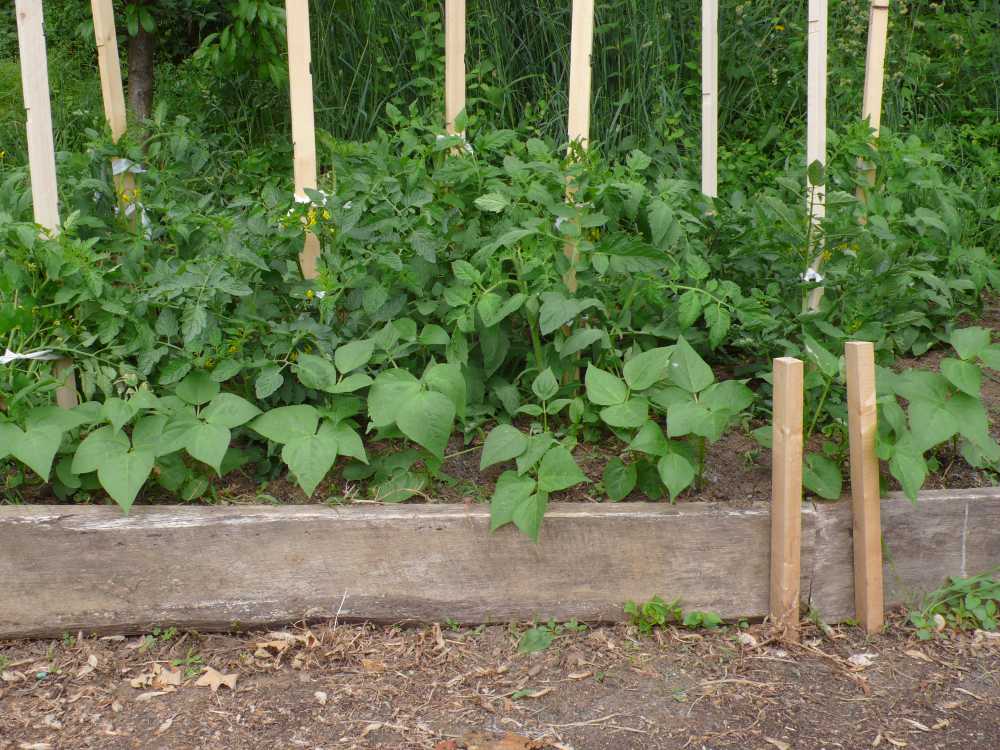 The Germantown Friends tennis courts in 1910.